Lander Connected
An emerging platform helps volunteers to address food security, shelter, access to masks, and meet other community needs during the COVID-19 pandemic and beyond.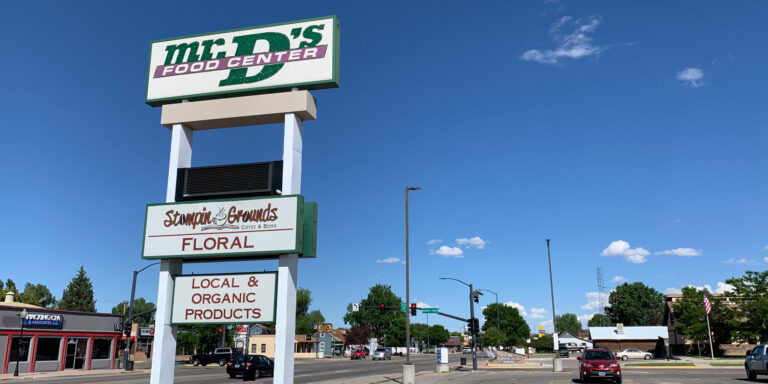 Talk to anyone involved with Lander Connected, the new volunteer matchmaking service that the LOR Foundation recently helped make a reality, and you'll quickly realize it's a labor of love. Not so much a love of systems and digital platforms—although there's an obvious appreciation for those things—but a love of Lander itself.
"Lander has always been a touchstone of home," says Terri Watson, president of the National Outdoor Leadership School and one of the visionaries behind the new online hub. "There's no place I'd rather be."
The town of 7,500 at the edge of Wyoming's Wind River Mountains has deep roots in ranching, land management, and hunting and fishing. Thanks to a community committed to working together, plus a commitment to smart, sustainable growth, the community is fast becoming a model for small-town livability in the West. LOR program officer Michelle Escudero, a thirty-year Lander resident herself, says that while people are attracted to the town by its spectacular location and easy access to the outdoors, they often choose to stay "because of the special community that Lander fosters."
COVID-19 in Lander
Lander was one of the first towns in Wyoming to feel the effects of COVID-19. The disease swept through a local retirement community in March, and hit the nearby Wind River Indian Reservation, home to the Northern Arapaho and Eastern Shoshone tribes, especially hard. Hospital beds filled quickly, despite social distancing recommendations. Hundreds of college students from out of state were sent home, and mom-and-pop businesses, hotels, and restaurants were forced to close or scale back service. And NOLS, the town's largest employer and a 55-year-old Lander institution, took the difficult and unprecedented step of laying off or cutting hours for a majority of its staff.
Lander Assistant Mayor RaJean Strube Fossen doesn't mince words when she talks about the toll this pandemic will take on this town. "There will be losses and they will hurt. It will take multiple years to recover."
But she does think small towns like Lander, whose residents are deeply committed to a place and to each other, are in a better position to recover than other, larger municipalities.
Lander Connected is evidence of that commitment.
"
Lander has always been a touchstone of home. There's no place I'd rather be.
---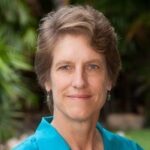 Terri Watson
President
National Outdoor Leadership School
Partnering for a Rapid Response
Even before the pandemic hit, Watson, who accepted the position of NOLS president in October 2019, had been thinking of how NOLS could be more "purposefully" community focused in Lander. Aside from the school's role as an economic driver in the community, she says she never saw the organization "deliberately focus on how to contribute to Lander in a substantive way." She says she heard a similar sentiment from many of her employees. Her desire and intent in her new role was to foster that connection. The arrival of COVID-19 just happened to speed the process along.
When the pandemic arrived, Watson asked herself and others, how NOLS could help. The organization was in no position to make a financial contribution: in the wake of canceled courses, NOLS was itself facing a devastating loss of revenue. But what she did have, she knew, was a pool of trained leaders adept at organizing and implementing complex projects.
Through a series of conversations with community members, including the Lander Community Foundation's executive director, Mary Greene, and LOR's Escudero, the idea of working together to build a centralized hub—where people in need of all kinds of assistance could be matched with available volunteers—began to crystallize.
"There's a lack of information out there for people who need it," says Greene, who in the early days of the pandemic found herself fielding calls from small business owners looking for loan assistance, local nonprofits that provide crisis services, and concerned citizens wanting to know how to help.
There's a lack of information out there for people who need it.
With financial assistance and technical expertise provided by the LOR Foundation, NOLS and the Lander Community Foundation were able to team up to hire Clair Smith—newly unemployed after the dissolution of her longtime position as special projects manager at NOLS—to spearhead the creation and implementation of Lander Connected. The new online hub asks visitors to identify whether they're seeking services or offering them, listing a menu of categories to choose from, including masks, grocery shopping, phone pals, driving, and supplies for the local group home, food bank, or hospital. "It's a one-stop shop," says Greene.
After only a few days of being live the site was already getting results: 76 people had registered to volunteer, and 48 people or groups had identified a specific need. 1,800 masks had already been made and delivered around the county. Smith only expects those numbers to grow as word about the hub spreads. And while the site is necessarily COVID-centric right now, it is designed to last and be useful far beyond this crisis.
Smith sees the creation of Lander Connected as meeting an incredible need in her community. "There are lots of people suffering in Lander right now—and there are lots of people who want to help and now are able to do it," she says. Lander Connected brings the two together.
Much of Smith's job is coordinating the behind-the-scenes efforts—moving goods from the Dollar Store, for example, to the First Stop Help Center and then out to the people who will use them, or securing sleeping bags from NOLS for a group of individuals who tested positive for COVID-19 and have a place to sleep but no beds. She is heartened by what she has witnessed in just a few weeks. "There are all these things happening and it's really cool to see how people are just taking it on. I've seen so many amazing people out there who are volunteering and making things happen for the greater good of Lander."
Greene, with the Lander Community Foundation, applauds the LOR Foundation's quick vision and action for helping to turn a grassroots idea into a reality. "This will make a huge impact," she says.
Watson echoes her sentiment. She calls LOR's vision of listening to local voices and providing leverage for local ideas "refreshing and powerful. I am so psyched that LOR is stepping up in Lander in such a meaningful way."
A Connected Community is a Resilient Community
Nobody thinks Lander's recovery will be easy.
Watson knows that some of her former employees have already left town to move back in with family or look for work in larger places. Assistant Mayor Strube Fossen says many others have likely left, too—especially unemployed workers in the service industry or seasonal employees who were counting on a strong summer tourist season to get them through the year.
But Strube Fossen looks to Lander's comeback after the closure of the U.S. Steel iron ore mine in the 1980s for a point of hope. Storefronts were empty, homeowners were suddenly underwater, and more than five hundred people found themselves out of work. Many people moved away then, too. At the time, Strube Fossen recalls, "It seemed like everything died."
And yet ten years later, many of Lander's older businesses were still going strong, and newcomers—including those like Terri Watson and Michelle Escudero—were moving in and committing themselves to this place. People wanted to be in and stay in Lander, she says, and they were determined to make it work. "There's a resiliency story in there somewhere."
It's that resiliency and sense of community that Lander's assistant mayor believes will help her town recover now. "People have been here long enough that they have established friends, family connections, faith-baith connections . . . and they volunteer themselves. All of this," she says, "will help us get through."
Escudero agrees. "The initial panic has been replaced by determination. Bright spots are already growing."
Count Lander Connected among them.
Send Us a Message
We are always looking to grow our network of organizations, funders and leaders at the local, regional and national level. Reach out to get involved in our work. Please note, LOR does not accept funding requests through the website.