The Soldier's House
Using a Habitat for Humanity model, a small Wyoming group coordinates volunteer crews to help repair veterans' homes.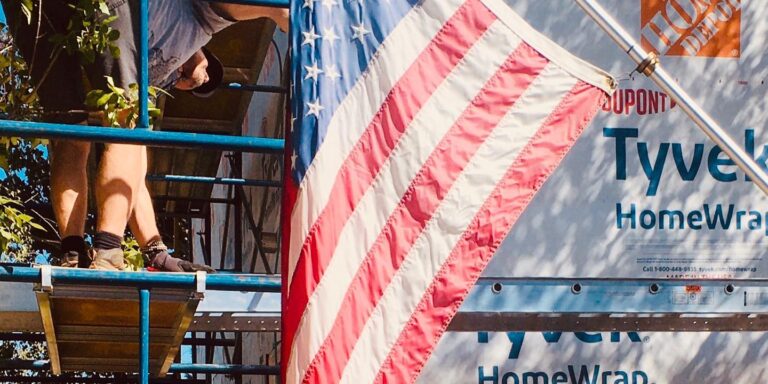 Sometimes giving back is the best way to say thank you. A pilot veteran home repair program from the Soldier's House lets Fremont County, Wyoming, residents do exactly that.
Since their inception as part of the U.S. Air Force in 1946, pararescuers—or PJs—have lived by the motto "these things we do, that others may live." PJs spend two years training to become skilled in everything from skydiving, scuba diving, mountain climbing, and, of course, medicine, so that they're able to drop in anywhere to rescue and treat military service members and civilians. Only about 20 percent of those who begin the rigorous training complete it.
The creed is an admirable one that speaks to these service members' devotion to putting others first, and it's also part of what sometimes prevents them from asking for help. Case in point: Mark Crawford, a Lander resident and former PJ, who recently received assistance from the Soldier's House to repair the siding on his home.
"Even though I'm so thankful for what I have, I still think someone else could have used all the time and resources," says the Air Force veteran, who spent 22 years as a PJ and now teaches wilderness medicine through NOLS. "I'm a typical vet who doesn't think that we deserve a lot of this stuff."
It's a common refrain Charlie and Jennifer Wilson are accustomed to hearing. The Wilsons founded the Soldier's House of Fremont County in 2014 to supply free mental healthcare to veterans and their families regardless of discharge status. (Charlie is a psychotherapist.) Since then, the Soldier's House has grown to include an acupuncturist, a craniosacral therapist, and now a veteran home repair and retrofit program. "We hear over and over from veterans, someone else needs it more than I do," Jennifer says. "We learned we had to be proactive with this population."
It's a sizable population in Wyoming, where more than 10 percent of state residents are veterans—nearly double the national rate. Many of those veterans, like Mark, are dealing with progressive disabilities as a result of their service—disabilities that might require adjustments to their homes or prevent them from doing the work themselves, as was the case with the Crawfords.
When a simple window replacement in 2015 revealed much more serious water damage, the Crawfords figured they'd be able to complete the work themselves. They finished one section of the home over two seasons, and ever the fastidious planner, Mark ordered all of the materials they needed to complete the project. But progressive disabilities from his years of service made it impossible for him to continue the work at the same pace. The materials sat under tarps for years as water sometimes still flowed into the Crawfords' house. Finally, Judy reached out to Charlie and Jennifer Wilson of the Soldier's House for help.
Charlie had been on the board for Habitat for Humanity and recently sided the Soldier's House headquarters in Riverton with help from volunteer contractor friends. He and fellow Habitat for Humanity board member Andy Eckhart (also a contractor) began to discuss how they might organize similar volunteer efforts to help veterans. "About that time, Michelle piped in," Charlie says.
"
This project is a perfect fit for the LOR Foundation as it supports a tangible solution that connects community assets with a community problem. By working side by side, we gain a better understanding of the tremendous sacrifices these vets have made and build a bridge of understanding between military and nonmilitary communities."
---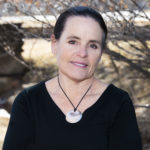 Michelle Escudero
LOR Program Officer
Michelle Escudero is LOR's Lander program officer. When she learned about their interest in starting the veteran retrofit program, she asked how LOR could help. Answer: Funding to help pay for an on-site contractor (Andy, in this case) to lead volunteers through the work, Habitat for Humanity–style. Because the Soldier's House isn't a 501(c)(3), the Lander Community Foundation stepped up as a fiscal sponsor.
"This project is a perfect fit for the LOR Foundation as it supports a tangible solution that connects community assets with a community problem," Escudero says. "Because of injuries sustained during service many vets had a hard time staying on top of life's necessities including upkeep of their homes. By working side by side, we gain a better understanding of the tremendous sacrifices these vets have made and build a bridge of understanding between military and nonmilitary communities."
Work on the Crawfords' home began in July. Most weekends volunteer crews of between eight and 12 worked under Andy's direction—and Mark and Judy insisted on working right beside them, when they weren't prepping hearty lunches and snacks for everyone involved. Local stores offered heavy discounts on materials to defray the costs; Habitat for Humanity Wind River Country and Red Canyon Builders both donated scaffolding, and Baldwin Creek Rental Center volunteered a lift boom. Many volunteers signed up through Lander Connected, a platform that connects residents to volunteer opportunities (also supported with funding by LOR). Mark and Judy marveled at the response: Kids who had never so much as used a screwdriver one weekend were teaching other volunteers how to use the tools the next.
By September, the project was complete—a bittersweet ending for the Crawfords, Judy says. While they're happy to have construction-free weekends back, they also forged lasting relationships with the volunteer crews. "Even though we knew a bunch of these people before, this deepened those friendships," Mark says. "There's a connection—respect isn't even the right word—that we didn't have before."
In 2019, Judy and Mark Crawford rode their bikes across much of America to help raise awareness about PTSD. In this poignant video post from the trip, Mark talks about the challenges in getting many veterans to accept help.
There's also more work to be done. This month, joined by volunteers from Team Rubicon, the Soldier's House re-sided the home of a veteran, indigenous healer, and peer counselor, and skirted a trailer home for another veteran. Next spring, the Soldier's House hopes to tackle additional projects—COVID-permitting—but they also need more veterans to apply. Charlie and Jennifer only received a couple requests this fall, despite the fact that there are more than 3,000 veterans in Fremont County.
Mark has a few words for them: "If you need help, reach out because you deserve it," he says. "You're not on your own. If that message can resonate just in terms of helping to fix a broken set of stairs, then it can resonate in terms of someone getting help in other ways. It's something that extends beyond the hammering of nails and purchasing of materials. It speaks to the heart: You deserve this."
Veterans: Let The Soldier's House Help You
The Solider's House is currently seeking applications for next spring's projects. If you, or a veteran you know, needs help with home repairs, contact Charlie Wilson at the Soldier's House.
Contact the Soldier's House
Send Us a Message
We are always looking to grow our network of organizations, funders and leaders at the local, regional and national level. Reach out to get involved in our work. Please note, LOR does not accept funding requests through the website.