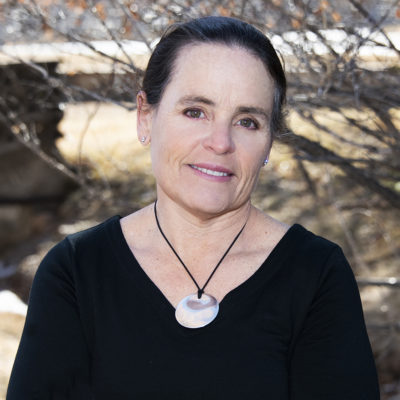 Michelle Escudero
Lander Community Officer
What does it take for a place to become more than just a place? What turns a town into a beloved, lively and strong community? For Michelle, the answer is easy. It's the connections and special relationships built between the people that live there. Michelle moved to Lander in 1990 and immediately placed herself into the fabric of the community.
She found the people that cared about the same issues she did. She joined local organizations and helped start others when she saw a void. She ran for office and serves as a trustee for Fremont County School District 1. She knows Lander well and the people behind it. As Lander's community officer, her background in engaging and mobilizing residents will be an asset as she listens for solutions to Lander's most pressing needs and opportunities.
Serving on the board of the Lander Community Foundation for over eight years, Michelle helped design the annual Challenge for Charities fundraising campaign that supports 35+ local nonprofits. She provided leadership to the Lander Art Center, Promoting Arts in Lander Schools (PALS), Adventures in Learning, Lander Action Network, League of Women Voters Fremont County and ATLAS (At Lander Arts and Sciences), among other community projects.
Michelle spent over 12 years working for NOLS (the National Outdoor Leadership School) in a number of capacities, including teaching backcountry hiking and sea kayaking expeditions in remote wilderness settings in Chilean Patagonia, British Columbia and Alaska. She's also worked as an independent consultant, advising nonprofits on everything from startup needs to resource development plans.
She attended Denison University, received a Bachelor of Arts in Art History, Economics and Studio Art and earned a Masters in Nonprofit Management from Regis University.
Michelle lives with her husband and daughter a stone's throw away from the Popo Agie River. On summer evenings they can be found on the front stoop chatting with neighbors walking by.
My Kind of Livable
Is an epic hike through the Wind River Range with a gaggle of 2-legged and 4-legged friends.
Share An Idea
If you have an idea for improving quality of life in Lander, Wyoming, Taos or Questa, New Mexico, or Cortez, Colorado, use this form to start a conversation with us.