Environment
Baling (and Building) in Taos
When the Town of Taos stopped recycling plastic, a group of locals created an innovative solution: turning waste into walls. With a little help from the LOR Foundation, they're poised to make a dent in the overflowing plastic.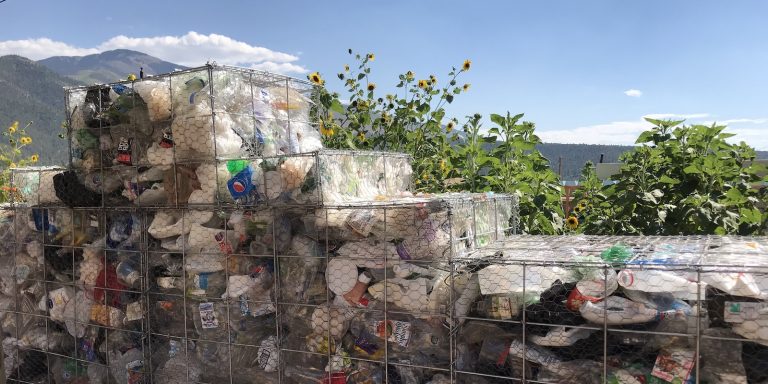 Todd Wynward and Daniel Herrera have no idea how much plastic is actually being wasted in Taos. But they know it's too much. When the Taos Regional Landfill Board voted to stop recycling plastic in 2019—processing and selling recycling was no longer financially viable, officials said—the plastic ended up in landfills. It's a problem shared by communities across the country, especially since China stopped buying most of America's recycled plastic two years ago. 
In response, an innovative solution has emerged in Taos. Wynward, the executive director of Taos Initiative for Life Together (TiLT), and Herrera (a member of TiLT's leadership team), are collecting and repurposing plastic as a building material in walls and other structural elements. They use crushed, condensed plastic to fill wire and wood frames, which are troweled over with stucco. (We know what you're thinking: What's the pee-yew potential? Negligible. Because of the anaerobic design, the plastic isn't exposed to sunlight or oxygen flow, reducing odor or off-gas emissions.) 
With guidance from local architect Doug Eichelberger, TiLT volunteers first tested this practice last summer on Herrera's Questa property. Over 10 weeks, they built a shed using 450 plastic-filled trash bags—crushing the material by foot. Shortly after the shed went up, Gaea McGahee from the Questa Farmers Market hired the TiLT crew, and this time they used 2,000 bags of plastic to build windbreaks, sound barriers, and benches. 
The Farmers Market project helped Wynward and Herrera determine what they needed to become more efficient: They'd need a mechanical baler to condense plastic faster than what could be done by foot, and they'd need a place for community members to drop off plastic.
"That's when we approached the LOR Foundation," says Wynward, who had previously participated in a LOR-hosted Radically Rural workshop. "We wanted to show Taos that we could do something of community empowerment rather than waiting on someone else to do it."
Supported by a grant from LOR, TiLT was able to purchase the plastic baler, identify worksites and storage spaces, and create a membership program (the Repurposing Plastic Project). "There was a real community-wide concern about recycling in Taos," says Jake Caldwell, LOR's strategic initiatives officer and former Taos program officer. "This was an opportunity to address something in a small-scale, catalytic way." 
Since the baler was purchased, the building process has become more efficient. Wynward and Herrera estimate they can crush plastic two or three times as fast with the baler than they could by foot. Plus, it crushes material tighter—meaning they can make use of more plastic with each building element.  
The resulting membership program—the Repurposing Plastic Project—is now making a real dent in Taos' waste. Already, nearly 300 members pay a small monthly fee to drop two garbage bags' worth of clean, uncapped plastic at locations in Taos or Questa. Members must clean all plastic before drop off and materials containing toxins or greasy material are prohibited. Membership rates and details are as follows: 

Despite the initial success, the Repurposing Plastic Project still faces some challenges: As the membership program has grown, Wynward and Herrera have begun running out of space to store plastic and are trying to offset the cost of transporting it. (If you'd like to volunteer to help with transport, email them here). And they estimate they need to grow membership to about 500 individuals and 50 businesses to become viable long-term. The duo is currently working to set up a community fund that locals can contribute to in the meantime. 
They're also in search of more building projects to use the plastic in, such as for community centers, schools, churches or parks (if you have one in mind, let them know). They hope these projects will educate Taos residents about the opportunity before them—and perhaps spark ingenuity in other communities struggling with their own excess plastic waste.
Join the Repurposing Plastic Project!
Repurposing Plastic Project memberships start at $5 per month and allow residents to drop clean, recycled goods twice a month at locations in Taos and Questa.
Sign up here
Taos Community Officer
Reach out to connect on important matters for your community or your organization.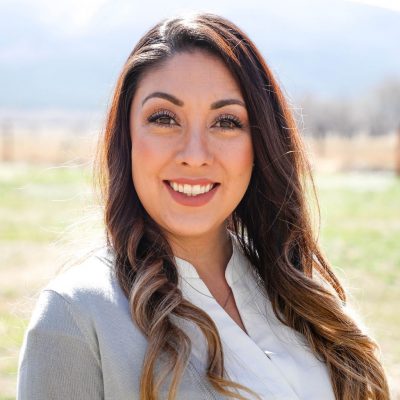 More Environment Solutions
Trails and Transformation
Farmers and outdoor enthusiasts partner to build trails for recreation and economic growth in the San Luis Valley. Read more
Share An Idea
If you have an idea for improving quality of life in Lander, Wyoming, Taos or Questa, New Mexico, or Cortez, Colorado, use this form to start a conversation with us.