Getting a Rural Perspective on the Solar Eclipse
By Ilana Newman, The Daily Yonder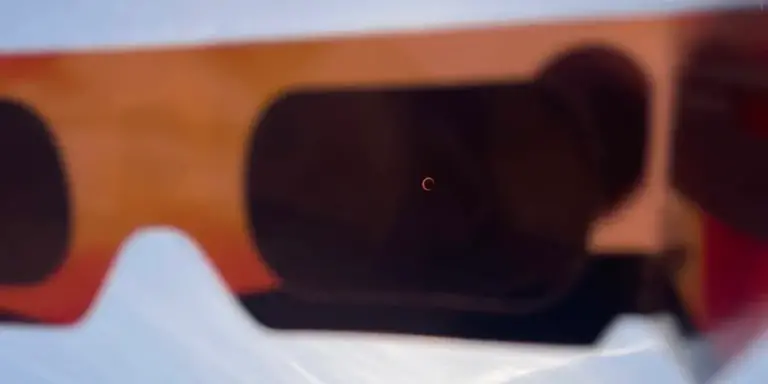 This story was produced through the Daily Yonder Rural Reporting Fellowship, with support from the LOR Foundation. 
On Saturday, October 14, at about 10 a.m. Mountain Time, a few friends and I scrambled up on some red rocks deep in the Utah desert. As we climbed, we commented on how cold it was and how strange our shadows appeared, seemingly rimmed with a hazy edge. The light had a quality that none of us could pinpoint.
At 10:30 a.m., the moon began to fully cover the sun. Through paper and plastic glasses, we watched, transfixed. It's a slightly absurd picture when you think about it: a group of adults, faces turned toward the sun, wearing eyewear reminiscent of 3D glasses. It felt as otherworldly as it looked — gazing at the burning orb as it shifted from a crescent into the full ring of fire. A friend started singing Johnny Cash.
We played with our shadows which, according to reporting done by ABC4, can turn into crescents due to a pinhole camera effect when the light from the eclipse passes through something like leaves on a tree. While I knew, logically, that many people across the country were watching the same thing, at that exact moment, out there in the desert, it felt like we must be the only ones experiencing the magic of the thin circle of orange sun peeking around a dark moon.
But across the country, the annular eclipse brought tourists to rural areas that rarely see this level of activity. Montezuma County, population 26,400, where I live and work, experienced full annularity, as people from around the state of Colorado and beyond traveled to witness the solar spectacle. According to reporting done by the Colorado Sun, 50,000 to 75,000 people were predicted to pass through the region for the eclipse.
With Mesa Verde National Park and Hovenweep and Canyons of the Ancients National Monuments, Montezuma County has a tourist economy, but the influx is generally over the summer. For the eclipse, according to the Cortez Journal, hotels such as the Cozy Inn in Cortez were much busier than they normally would be this time of year. "Our 28 rooms are fully booked," Stephen Ray Herrera, Cozy Inn's manager told the Journal. "I'm shocked. It would normally be pretty dead."
A friend of mine recently opened the Dolores Bike Hostel, after spending nearly a year remodeling an old medical building into a beautiful, light-filled space for visitors to Dolores, Colorado (population 904). Barely two weeks after opening on September 30, the hostel was fully-booked on the night before the eclipse as visitors flocked to the region for last-minute trips.
But for some in the Four Corners area, an eclipse is not reason to don plastic glasses and head outside. For Diné (Navajo) people, the eclipse is a spiritual time: "Navajos have a very traditional protocol that involves the eclipse. And part of it is this whole idea of reverence and respect for what's happening in the sky," said Nancy C. Maryboy, Ph.D., in a video resource created by Exploratorium. Maryboy explains that traditionally, Diné people stay inside, silent and still in reverence, not eating, drinking, or looking at the sun during an eclipse. They see the return of the sun as a cleansing and rebirth.
I can see why. Watching the sun reemerge from behind the new moon, I felt something shift. Personally, these past few weeks have been a time of unbecoming and rebirth, a reimagining of what life could look like. Maybe some of that came from the energy of the eclipse.
In April 2024, a total solar eclipse will pass over much of the eastern United States, crossing Texas, Oklahoma, Arkansas, Missouri, Illinois, Indiana, Ohio, Pennsylvania, New York, Vermont, New Hampshire, and Maine. Many rural areas are already capitalizing on the upcoming event, with small towns like Broken Bow, Oklahoma, and Caribou, Maine advertised as perfect places to observe the next big solar eclipse. Hopefully they too can benefit, the way my friend's new hostel benefitted, from folks traveling to rural areas to look at the sky.
---
This article first appeared on The Daily Yonder and is republished here under a Creative Commons license.
Share an Idea
If you have an idea for improving quality of life in Cortez or Monte Vista, Colorado; Lander, Wyoming; Libby, Montana; Questa or Taos, New Mexico; or Weiser, Idaho, use this form to start a conversation with us.