Taos HIVE
Offering career training, small business support, and wrap-around services, HIVE garners national attention as it applies for federal funding and helps a rural economy go digital.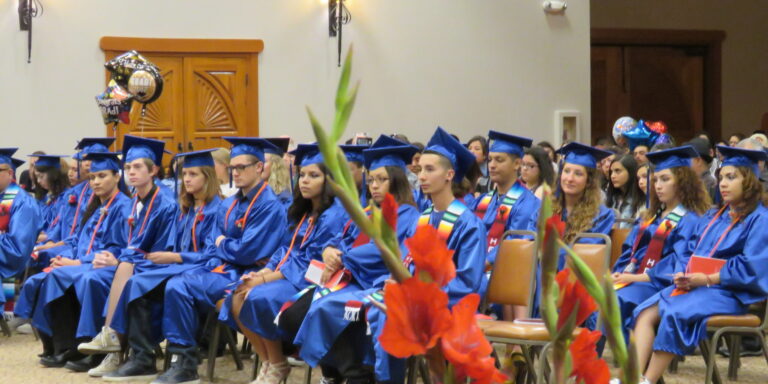 HIVE is the brainchild of Nina Gonzales, director of adult education at UNM-Taos. It's an innovative new co-working space and business incubation project that combines training and support services for the community's adult learners.
With an in-town facility slated to open in August of 2020, HIVE will serve students and clients from a range of socioeconomic and cultural backgrounds. It is designed to encourage a rich interchange of ideas between experienced working professionals and students just starting their careers.
"From the first time Nina talked to me about it," says LOR program officer Jake Caldwell, "I could see the incredible potential of this kind of integrated entrepreneurial, educational, and workforce development program to enrich and transform our community."
Taos boasts a rich cultural heritage and unparalleled outdoor recreation opportunities that draw retirees, second-home owners, and tourists alike. But like so many tourism-dependent economies in the intermountain west, Taos also suffers from a growing income disparity. Service and healthcare jobs dominate, while high-wage, in-demand career opportunities are few and far between. High rates of poverty and low educational attainment compound the problem.
Taos boasts a rich cultural heritage and unparalleled outdoor recreation opportunities that draw retirees, second-home owners, and tourists alike.
Early in her tenure at UNM-Taos, Gonzales recognized the need to better support the adult learners her program served. What good were education and training, she wondered, if there was no landing place for students—in the form of well-paying jobs—once they graduated? How could the brain drain so common to rural towns be stemmed?
Taos HIVE is one answer to this problem.
With a grant from LOR to hire a part-time coordinator, Gonzales and Taos HIVE quickly garnered broad public and private support for its visionary approach to preparing adult learners to transition to a digitized, global economy. Now a special project of the Taos Community Foundation, partners also include the Town of Taos, the Kit Carson Electric Cooperative, the Northern Area Local Workforce Development Board, and UNM-Taos.
"HIVE had a magical thing from the get-go," says Gonzales. "People just like it. It's a combination of the right time and the right people. A lot of what I've done is just pulling in people" to make it happen.
HIVE's integrated approach—and the strong community buy-in—also gained the attention of judges at a nationwide competition for business innovation. In 2019 the HIVE team flew to Miami to pitch their idea at the rigorous Minds That Move Us competition. Gonzales says bringing so many partners up on stage together sent a powerful message to the judges, who assessed projects based in part on team composition and strength, and team commitment and capacity. "Our success truly came from our collaboration," Gonzales says.
Ultimately, Taos HIVE won the $100,000 implementation award, beating out nine other projects from around the country. "Ours was the only rural program to be selected," says Gonzales. She credits the LOR Foundation for connecting the HIVE team with Media Desk New Mexico, the storytelling pros who helped HIVE develop their winning pitch.
Now, as HIVE's organizers prepare to open the doors of their new office space, they have another exciting opportunity—this time to secure special funding through the federal Workforce Innovation Opportunity Act. A WIOA grant would allow HIVE to pay their adult learners for taking classes that propel them into digital careers. The LOR Foundation is proud to provide continued support for HIVE's coordinator as the project develops its curriculum to meet the funding criteria.
"We are really eager to see Taos HIVE succeed," says Caldwell. "Especially now, as the effects of COVID-19 and social distancing require our community to speed up its transition to a digitized economy, this innovative project could be game-changing. It will give young people a reason—and a way—to stay here in Taos, to make Taos a better place."
Send Us a Message
We are always looking to grow our network of organizations, funders and leaders at the local, regional and national level. Reach out to get involved in our work. Please note, LOR does not accept funding requests through the website.