Business Alive
Ten local businesses are paired with web developers to launch or improve their e-commerce capability to adapt to COVID-19.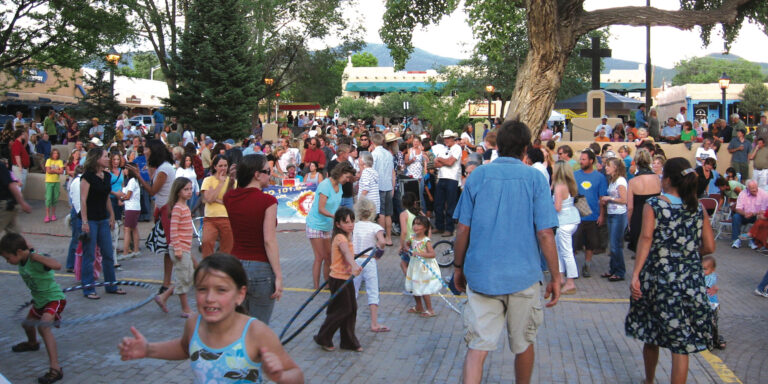 Main Street needs to go back to its roots, he says—not only as a hub of commerce but as a gathering place for friends and neighbors. Whitson is the executive director of Taos Main Street, a nonprofit accredited by Main Street America that's working to strengthen the historic downtown district. "Main Streets are at a crossroads," he says. "Especially in smaller communities."
Even before a pandemic forced shops, eateries, and galleries to abruptly close their doors, downtowns nationwide were facing an identity crisis. Between shopping malls, big box stores, and the rise of online retail, small downtowns have struggled for decades to stay relevant in a rapidly changing world.
COVID-19 simply laid the problem bare.
"Forty to fifty percent of businesses in Taos's Main Street district—and likely community-wide—had little to no e-commerce capability" when COVID hit, says Whitson. These shops and restaurants didn't have websites or had sites that were static or not functional. Many did not have their inventories or menus online, and they had no ability to take payments. In other words, almost half of Taos's downtown businesses—some of the very places that contribute most visibly to a community's unique identity—suddenly had no way to generate revenue.
"Rural communities tend to be behind in this anyway," Whitson says, citing a lack of resources or expertise, or just plain resistance to website development and social media.
Pandemic or not, that's a problem. And it's one that community members are working to solve through a new project aimed at improving the digital literacy and online presence of downtown businesses.
There's a recognition that after COVID, everybody will emerge into a whole new reality
Business Alive, a project of Taos Main Street, the Taos Community Foundation, and the LOR Foundation, will pair ten local businesses with web developers—many of whom are generously donating time—to create new websites or adapt existing sites to allow for more robust e-commerce. The project, says Whitson, which businesses will have to apply to be part of, takes a two-pronged approach: "We'll help businesses develop these tools for free. Businesses, in turn, will have a responsibility to learn how to use them."
That long-term responsibility is at the heart of the shared vision for Business Alive.
"There's a recognition that after COVID, businesses—everybody—will emerge into a whole new reality," says LOR program officer and Taos native Jake Caldwell. So even while Business Alive meets an immediate need in the face of the COVID crisis, by equipping business owners with the skills and tools necessary to be successful in the twenty-first century, the project is acutely focused on Taos's future.
Ultimately founders envision the creation of an online marketplace—a kind of virtual downtown—where visitors could learn about and patronize all of Taos's small businesses from a single hub.
"
Forty to fifty percent of businesses in Taos's Main Street district—and likely community-wide—had little to no e-commerce capability.
---
Charles Whitson
Executive Director
Taos Main Street
A number of organizations have already shown an interest in supporting the project, including the University of New Mexico-Taos Branch. Together, UNM Taos and Whitson are exploring the potential for a one-credit course that trains small business owners in social media basics and other best e-commerce practices. Whitson says they are also looking into the potential to cover tuition for participants. The possibilities are exciting, he says, as is the fact that the project is designed to evolve with the needs of the community.
Business Alive is a bright spot for Taos at a difficult time. It's just one example of the new connections and collaborative efforts that are being forged as COVID brings to the surface longstanding systemic issues. "Our sense of community is elevated right now," says Whitson. "We all want to live here, those of us with kids want our kids to grow up here and have ample opportunities here. So now we're asking: how can we all work together to achieve those things?"
Small, downtown businesses across rural America are developing innovative ideas to address economic recovery. Business Alive is just one example of a program that, while conceived for one unique community, can easily be tailored to work well in many others. LOR's belief in small businesses, community voices, and local solutions drives our work, and we are proud to help bring these homegrown solutions to life.
Send Us a Message
We are always looking to grow our network of organizations, funders and leaders at the local, regional and national level. Reach out to get involved in our work. Please note, LOR does not accept funding requests through the website.