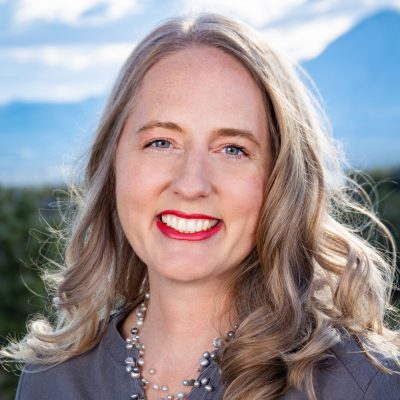 Nicci Crowley
Cortez Community Officer
Nicci prides herself on being a connector of people and ideas—a trait that's central to her work as the LOR Foundation's community officer in Cortez, Colorado. She listens to community members to understand the challenges they collectively face and then helps launch the solutions they develop to address them.
Nicci's understanding of community and nonprofit expertise come from her many years of diverse involvements in Cortez. She's immersed herself in community work ever since finding her permanent home in Cortez in 2006—most recently as the deputy director for Onward! A Legacy Foundation but also in her work with the Four Corners Child Advocacy Center, Tri-City Soccer, Montezuma-Cortez High School advisory committee, and her church council. She's also a founding member of the newly formed Montelores Nonprofit Association. 
Born and raised in small-town Enid, Oklahoma, Nicci earned her degree in mass communications from Oklahoma City University. Working with CBS News, Nicci assisted in covering the 1996 memorial of Oklahoma City bombing, the 1996 Democratic National Convention in Chicago, and the second inauguration of President Bill Clinton in Washington D.C. After leaving journalism, she worked in marketing and public relations, and in 2002 began her career in the nonprofit sector at the University of Denver's Hotel, Restaurant, and Tourism Management School.
When she's not working, Nicci can be found with her husband, Chris, watching their two children compete in the sports they love. She also teaches ballet and pointe to middle school and high school students, and is currently learning more about "Gallup Strengths" as she believes everyone has something to bring to the table. Nicci wants to help others be their most successful selves, noting, "when we are all using our strengths, we build a strong community."
My Kind of Livable
Is sitting on my front porch under the beautiful Colorado skies with a good book or deep in conversation. Or coming together as a community to root on our local kids from our pee-wee leagues to our M-CHS Panthers. 
Share an Idea
If you have an idea for improving quality of life in Cortez or Monte Vista, Colorado; Lander, Wyoming; Libby, Montana; or Questa or Taos, New Mexico, use this form to start a conversation with us.