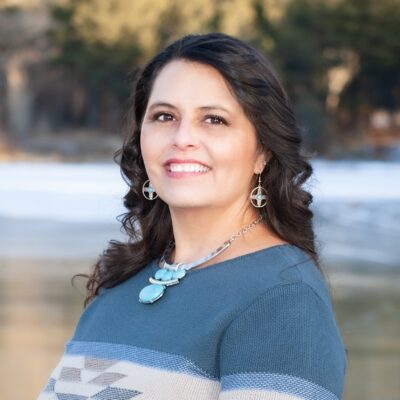 Maria Gonzalez
Questa Community Officer
Born and raised in Questa, Maria understands the promise of her close-knit community—as well as the challenges it faces—on an intimate level. That lifelong knowledge is something she brings with her to her role as LOR's Questa community officer. At LOR, she's focused on listening to her neighbors and helping to support community-led solutions. Maria is proud of Questa's heritage, and she remains committed to helping the community honor its cultural traditions as it evolves.
Maria has been working in the Questa community for nearly 20 years, primarily in the fields of behavioral health and social services, where she has been a witness to the needs of her neighbors. Maria began working with the local Boys and Girls Club in 2005, where she served as unit director, a role in which she provided after-school programming and brought other educational resources to the Questa School District. During this time, she became an elementary art educational assistant at Alta Vista Elementary, teaching kindergarten through sixth grade classes. She also served as a Catechism teacher and a Mayordomo (caretaker of the church) alongside her husband at St. Anthony's Catholic Church. Most recently, Maria was the program coordinator for Vida Del Norte Community Coalition, where she collaborated with many organizations and individuals to reduce the rate of substance misuse among youth in Questa.
Maria earned a bachelor's degree in liberal arts from the University of New Mexico and began a master's program in clinical mental health at Adams State University in 2013. Having seen many of the community initiatives the LOR Foundation has already supported in Questa and Taos, Maria was excited to work with an organization that prioritizes listening to community members and ensuring resources reach people in need. She joined LOR in an effort to bring a local's perspective to that important work. But when she's not working, Maria enjoys hiking trails throughout northern New Mexico, working the land at her home, and traveling with her family.
My Kind of Livable
Enjoying a fresh cup of coffee while the morning sun hits my face as look upon the sacred Amaigre Mountain from my porch. Gathering as community in summer for farmers markets, fiestas, concerts, and our harvest festival "Cambalanche" that sets the stage for the new season.
Share an Idea
If you have an idea for improving quality of life in Cortez or Monte Vista, Colorado; Lander, Wyoming; Libby, Montana; or Questa or Taos, New Mexico, use this form to start a conversation with us.