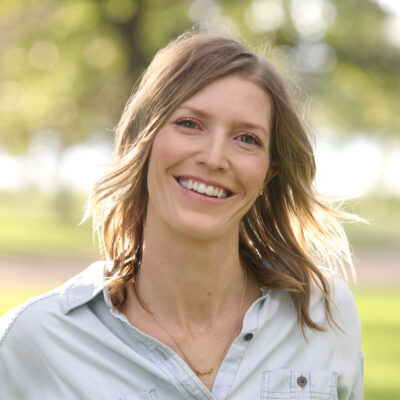 Communications Officer
Kasey Cordell
Denver, Colorado
Kasey understands the power of story to connect communities and elevate their ideas. She also knows that every good story begins with listening. So in leading LOR's storytelling efforts, Kasey works closely with LOR program officers to create opportunities for authentic community engagement and translates the results into powerful narratives that can amplify the rural voice throughout the region and the nation.
A product of the West herself—born in Oregon and shaped by Colorado—Kasey is motivated to ensure the Mountain West isn't overlooked in national conversations, and she has dedicated much of her career to finding and sharing stories about the region. She joined the LOR Foundation after more than 15 years as a decorated magazine journalist. A National Magazine Award winner, she brings an unwavering commitment to accurate, thorough reporting and sensitive, thoughtful storytelling. Her work has been recognized by the American Society of Magazine Editors, the City and Regional Magazine Association, and the Society of Professional Journalists, and has been included in two anthologies. In 2018, she was honored as a Folio: Top Women In Media.
Kasey has a B.A. in psychology from Lewis & Clark College, an MA in Irish studies from Queen's University Belfast, and an MA in journalism from the University of Colorado. She lives in Denver with her husband and two lab/border collie mixes: Rigby (as in Idaho) and Vander (as in Evander Holyfield). And yes, there's a story there.
An avid traveler and outdoor adventurer, Kasey regularly seeks landscapes with big skies and big horizon lines, where her curiosity leads her just a little farther down the trail or, just as often, into a favorite local coffee shop. She was drawn to LOR's mission to preserve and enhance these special places and is excited about the chance to support both the foundation and the tightly knit communities with which it works.
#MyKindOfLivable
I live in Denver, where the Front Range frames a city rich in history and story—and one close enough to the mountains to inspire regular adventures.
My kind of livable is starting the day with a stroll beneath a canopy of 100-year-old honey locusts and ending it on my front porch, sitting in my rocking chair, visiting with neighbors.
Meet more of the team
Share An Idea
If you have an idea for improving quality of life in Lander, Wyoming, Taos or Questa, New Mexico, use this form to start a conversation with us.