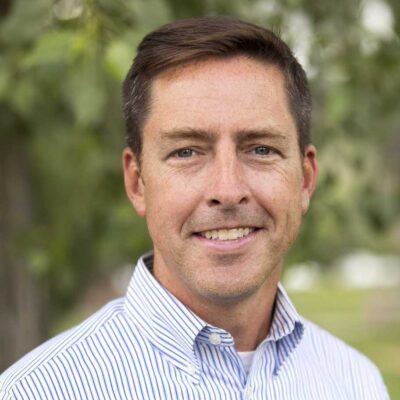 Bill Jaeger
Strategic Initiatives Officer
From the classroom to the Colorado state Capitol, Bill has spent the past 20 years connecting diverse communities with opportunities for growth and supporting their success. As a former high school social studies teacher and administrator, a researcher, and a public policy advocate, Bill knows the value of listening—and the power of authenticity—when it comes to making change, and he's excited to bring that perspective to his work with LOR. At the foundation, Bill works to connect rural communities in the Mountain West with funding and other resources that can help improve quality of life throughout the region. 
Bill earned a bachelor's degree from Dartmouth College and a master's in education from Harvard before spending several years as an educator. Bill also holds a master's degree in public policy from Trinity College and a master's in political science from the University of Colorado. Prior to joining LOR, Bill also worked for more than a decade to support children and families, most recently as Vice President of Early Childhood and Policy Initiatives at the Colorado Children's Campaign. His research has been published in several peer-reviewed journals and he served as a Colorado Children and Families Health and Human Services Ascend Fellow with the Aspen Institute from 2017 to 2018. Bill is a graduate of Cheyenne Mountain High School in Colorado Springs, Colorado, and enjoys playing in the mountains with his wife, son, daughter, and golden retriever, Cedar.
Bill has been fortunate to spend time in communities throughout the Mountain West and work with local leaders on many initiatives to improve community well-being. LOR's commitment to listening and thinking broadly about how to support quality of life drew Bill to join the foundation.
My Kind of Livable
Spending time with the people and dog that I love, enjoying the mountains, trails, streams, and lakes in this beautiful part of the country, and seeing my kids learn a deep love of this place.
Share an Idea
If you have an idea for improving quality of life in Cortez or Monte Vista, Colorado; Lander, Wyoming; Libby, Montana; or Questa or Taos, New Mexico, use this form to start a conversation with us.