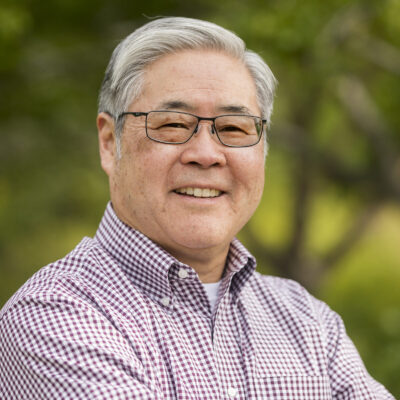 Wayne Miyamoto
Technology Officer
As LOR's technology officer, Wayne ensures LOR's digital systems enable the foundation to be more responsive to rural needs. With decades of experience helping small and large organizations create efficient technology solutions, Wayne applies his expertise to building and maintaining LOR's digital platforms and helping LOR staff better utilize technology. He also works with LOR's community officers to assist rural residents who are trying to harness the power of new digital resources. 
Before moving to Colorado in 1991, Wayne spent many years living in small California communities: He tutored grade school students in Red Bluff, served as managing editor of the Yuba City Herald, and spent summers working on his uncle's farm in the Central Valley. As his career evolved, Wayne traveled across the country—and the world—working with leading-edge companies like Cisco Systems and Bell Laboratories, where he co-authored two patents.  
Wayne also helped launch two successful tech startups and most recently served as the vice president of information technology at the Augustine Institute outside of Denver. In 2010, he was the recipient of the Cisco Systems Global Volunteerism award for his community volunteer work with Catholic Charities, Habitat for Humanity, the American Cancer Society, Susan G Komen, Meals on Wheels/Nourish, and the Rocky Mountain Food Bank.
Wayne earned a BS in communications technology from California State University, Chico, and a Master's Certificate from the University of Pennsylvania Wharton School of Business. Wayne lives in Littleton, Colorado, with his wife, and in his free time he enjoys cycling, hiking, cooking, and travel.
My Kind of Livable
My kind of livable is living in the quiet, friendly Ken-Caryl Valley, with its open spaces to hike and bike, and on warm summer evenings, enjoying the company of neighbors.
Share An Idea
If you have an idea for improving quality of life in Lander, Wyoming, Taos or Questa, New Mexico, or Cortez, Colorado, use this form to start a conversation with us.