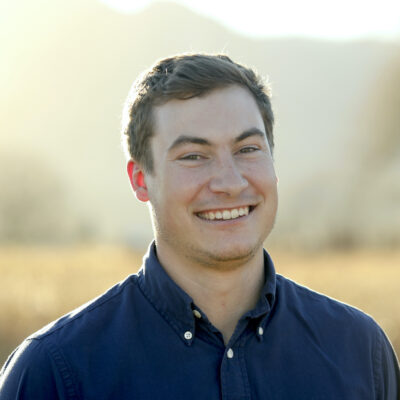 Jay Bouchard
Content Manager
Jay knows that compelling narratives are often found in the places where others aren't looking, and he brings a sharp eye and authenticity to the LOR Foundation's storytelling efforts. Working with community members and LOR staff, he shapes stories about important solutions for improving quality of life and shares them both locally and throughout the region. 
Jay has followed a commitment to storytelling across the country and into the diverse communities of the Mountain West, where he cut his teeth as a writer and journalist. Born in New Hampshire, Jay moved west nearly a decade ago to study English and political science at Carroll College in Helena, Montana. He earned a Master of Science in Journalism degree from Northwestern University's Medill School of Journalism before moving to Santa Fe, New Mexico, where he began his magazine career at Outside. As a writer and editor for Denver's 5280, Jay covered a breadth of topics including city and state politics, education, natural resources, infrastructure, wildfire, and more—all the while helping to build and maintain an award-winning website. 
Jay joined the LOR team to marry his passion for writing and reporting in the West with a mission to help the region's rural communities. He looks forward to spending time in those communities, building relationships, and helping to elevate the rural voice in the Mountain West for a growing audience.  
Jay lives in Denver and spends his free time skiing, fishing badly, playing music, and wishing he could throw a baseball just a little bit faster.
My Kind of Livable
Wandering through Denver's many parks on early mornings and late evenings, looking West to the mountains where wild rivers, elusive trout, and untold stories await.
Share an Idea
If you have an idea for improving quality of life in Cortez or Monte Vista, Colorado; Lander, Wyoming; Libby, Montana; or Questa or Taos, New Mexico, use this form to start a conversation with us.